Myrtle — an ancient symbol of hope, prosperity and good luck. Imagine stepping into The Garden of Eden. The lushness envelops you, the sweet, earthy scent of Myrtle fills the air.
This evergreen shrub, whose name comes from the Greek word meaning, "sprig," is a sacred symbol of Greek Mythology. The goddess of love and beauty, Aphrodite, is often depicted with a sprig, wreath or crown of Myrtle.
Ancient Romans adorned Olympians with wreaths of Myrtle and every royal wedding up until present day has included a sprig of Myrtle in the royal bouquet. If you travel to the wild blue waters of Sardinia, Italy, you can drink "Mirto" a liquor made by Sardinians from the Myrtle berry.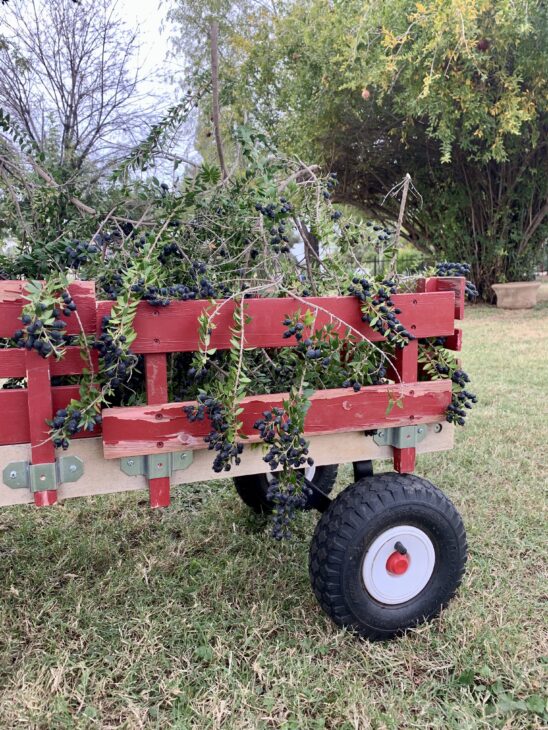 A new year — this myrtle wreath represents a new sense of hope
It's no secret that I am in love with our common Myrtle tree. The sweet, earthy scented leaves and bright berries inspired me to start 2022 off by creating a Myrtle wreath.
As a symbol of prosperity and good luck, I thought this was a fitting time and way to use sprigs of Myrtle.
The best part? I didn't have any wreath hoops laying around, which forced me to get creative and repurpose other materials.
From trash to treasure — using upcycled materials as a wreath base
So far, I have created a couple of wreaths. Both used items as the base that I saved from going in the trash. The first base was made from a disassembled wooden brie cheese container. The second was the plastic base to a round to-go bakery shell. I cut the center out leaving a few inches of plastic as my base and honestly, it worked perfectly!
Our Myrtle tree's berries ripened mid-to-late-October and are still holding up a couple of months later. I've been dreaming of creating wreaths with the sprigs of fragrant evergreen stems and berries.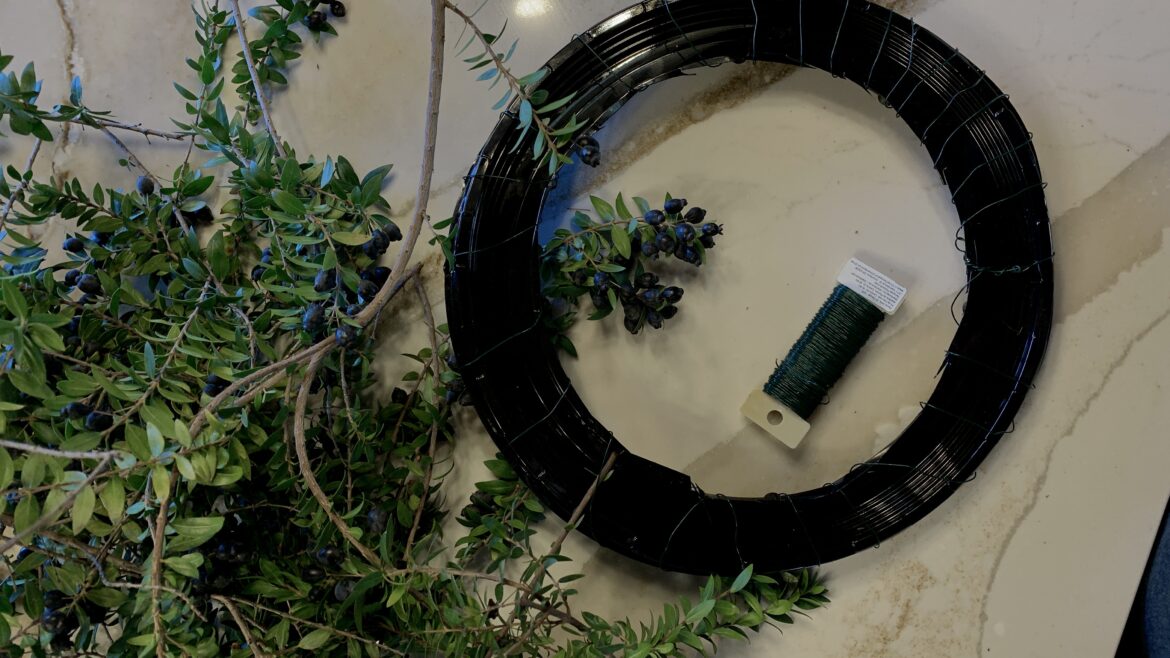 Now that I have figured out a hack to create bases from round packaging materials, I'm going to keep creating wreaths as long as the berries stay on the tree! The fresh scent of Myrtle adds a wonderful element to the organic decor.
You can make your own wreath at home too
Although this post is specifically about Myrtle, you can use any greenery you have available to you. I happen to know that Myrtle dries gracefully, so I am confident in using it.
Supplies:
Wreath hoop, thick wire or any other imaginative hoop base
Wire – I used 22 gauge florist wire here
Greenery
Flowers (optional)
Ribbon (optional)
First I made the wreath base by cutting out the center of the plastic plate. I've seen others online create hoop bases from a thick wire.
Next, I took the florist wire and wrapped it around the base. Then I got busy sliding the twigs and sprigs underneath the wire. As the wreath became more full, I started to weave some of the branches over and under the wire to give it a more dimensional look.
I finished it off by wrapping one more piece of florist wire around the wreath, being mindful to try to hide it. This step may not be necessary depending on what greenery you use and if you want a fuller, messier look or not.
Lastly, I placed some bright purple gomphrenas around the wreath for a little pop of color. I love how it turned out!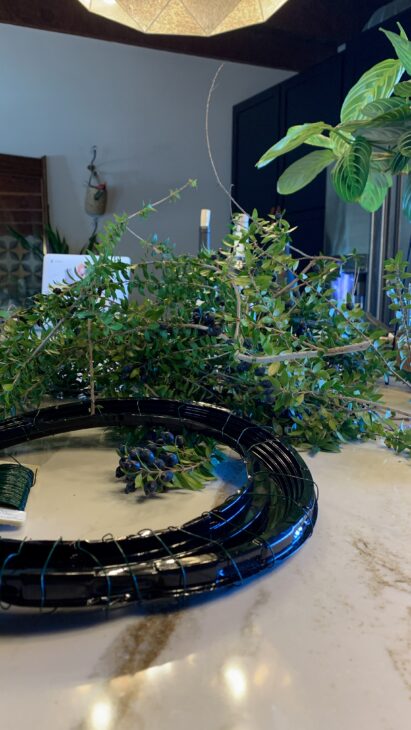 To sum it up, a homemade wreath is an easy way to spruce up your home's decor or they make a wonderful and thoughtful gift.