I officially have a new favorite coffee drink and I need to shout it from a mountain — muddled mint iced coffee! Where has this delightfully refreshing drink been my whole life?!
I was on a spiced honey latte kick for quite a bit, but sadly, my Iconic Cocktail spiced honey elixir has finally run dry.
I have always been a fan of minty coffees in general and have tried many avenues of achieving the perfect one at home. From store-bought mint syrups to that time I tried to make my own (nasty), to all of the various coffee creamers I purchased but have been looking for the right product. I've even tried making my own mint creamer with straight-up peppermint flavoring and yikes — let me warn you a little of that goes a long way.
Basically, I've been on the hunt for the perfect mint coffee drink (to no avail). I love a peppermint mocha around the holidays so I will have to give this new method a try when the holidays come around! I am so excited to share this with you, I hope you enjoy it as much as I have been!
Muddled mint iced coffee ingredients
The best part about this recipe is that it's by far the easiest and most accessible way I've tried so far. My in-laws have an old bed of mint that keeps growing and growing, which I'm very thankful for. For as much as I hear about mint being hard to kill and growing like a week, I have a really hard time keeping mine alive!
I recently learned about muddled mint iced coffee on an episode of Food Network's Girl Meets Farm which features food blogger Molly Yeh. I was inspired by the concept so I had to give it a whirl too. My life has been forever changed and I already can't wait to have guests over at my house so I can offer them a glass of garden-fresh muddled mint iced coffee.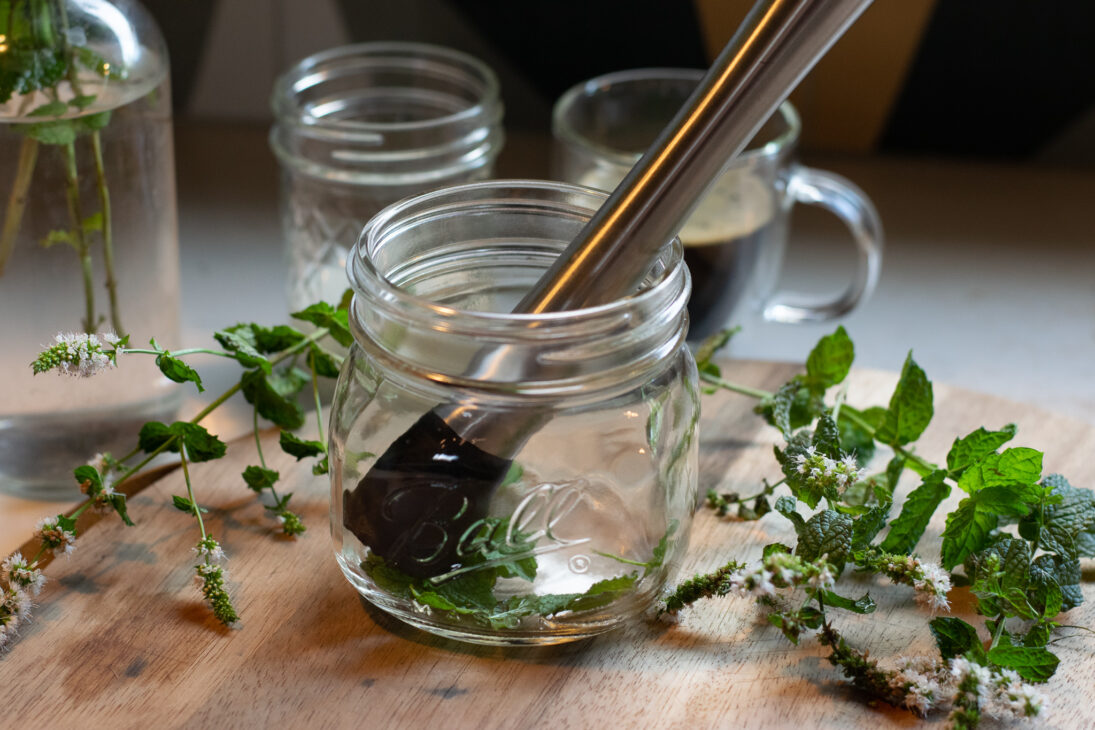 This recipe is easy and comes together quickly. Here's what you'll need:
Iced coffee or espresso
Sweet cream creamer*
-or- Simple syrup + milk
Chocolate syrup (if you like a mocha)
Fresh mint leaves
Muddler
*Re: sweet cream creamers vs using milk + simple syrup… I'll be honest, my favorite version is the sweet cream creamer from Trader Joe's. It's a more popular flavor now, Chobani has one that I would call a close second. You can make your own simple syrup, I used store-bought simple syrup but it was just too sweet and I barely used any.
The best part of making this recipe is picking fresh leaves of mint straight from the source. It's almost like a little ritual now. You can, of course, buy some at the store or a farmer's market.
I'm an espresso drinker so I'll share how I make my drink, but you could easily sub in a cold brew or iced coffee.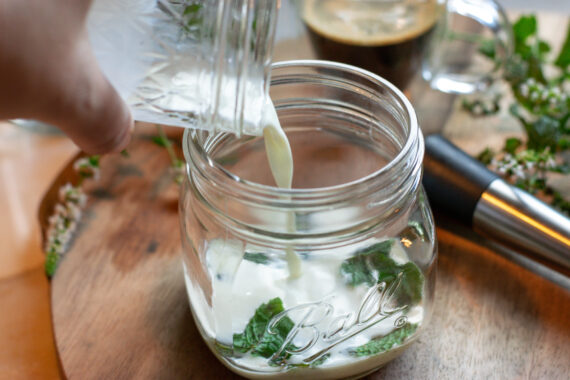 How I make a muddled mint iced coffee
Start with some fresh mint in a glass. My leaves are small so I probably did 6-8 small leaves. You can do 3-4 larger ones, just feel it out depending on how much you like mint.
First I make my espresso shot (or two). If you want to add chocolate, add it to the hot espresso and stir well. Immediately stick it in freezer to cool down.
While that's cooling, I muddle the mint well, releasing the leaves' essential oils.
Then, I pour in a splash of my creamer and give it a good swirl.
Next, I fill my glass about half way crushed ice, swirl again.
Lastly, I get my cooled espresso and pour over ice and give a final swirl.
If feeling fancy, top with a little pinch of mint or whipped cream.
Because, I'm essentially making a fancy iced espresso here, my glass is typically only half full. If you're using a cold brew or iced coffee, you can use however much you want — fill away!
Does this coffee drink sound like something you would enjoy? Let me know if you make it!