This red, white and blueberry simple salad is a very summery way to eat your fruits and veggies. It packs a ton of flavor and adds a colorful pop to any patriotic celebration.
Ingredients for red, white and blueberry simple salad
Like the name implies, this a simple and easy salad. In this recipe, the red is strawberry and white is feta cheese. Feel free to use whatever cheese you choose. Alas, it's all delicious in this scenario.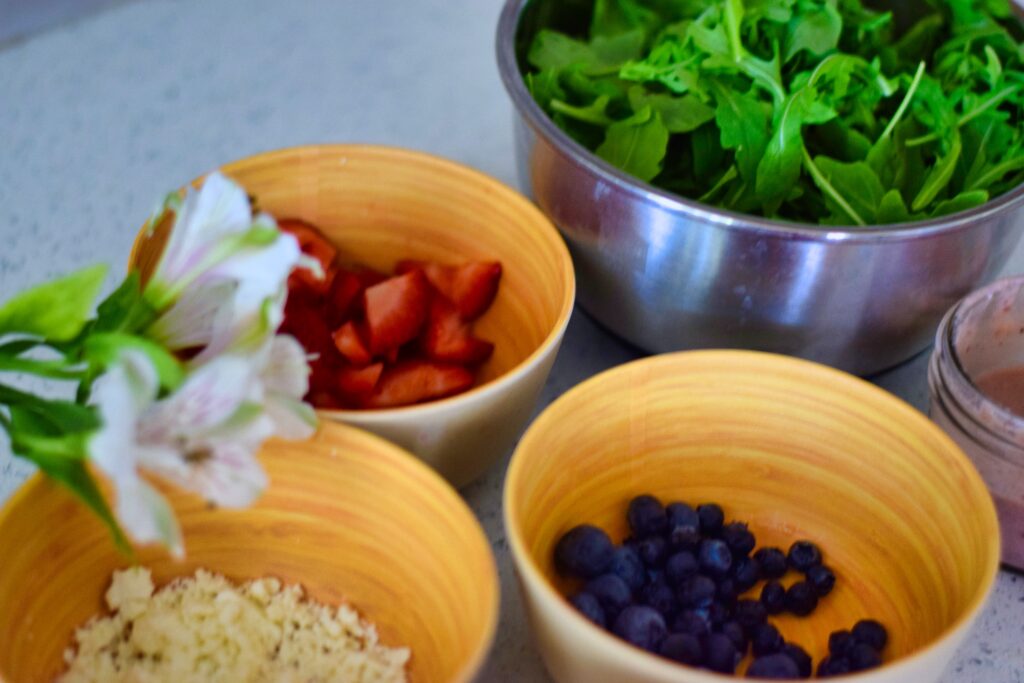 This red, white and blueberry simple salad makes a great side dish or add protein to make it the star of the show. Here's what I used to throw it together:
Arugula
Sliced strawberries
Blueberries
Grilled sliced chicken (optional)
Feta crumbles
Seed of choice (optional)
You can make a few different variations of this salad. Based off of how adventurous your palette is, here's what I'd recommend.
Bold flavor variations:
Arugula for a peppery bite
Swap chicken for steak
Blue cheese crumbles instead of feta
Top with these sweet spicy pecans
Mild flavor variations
Swap arugula for spinach
Queso fresco crumble
Dress with a balsamic, oil and touch of honey or agave syrup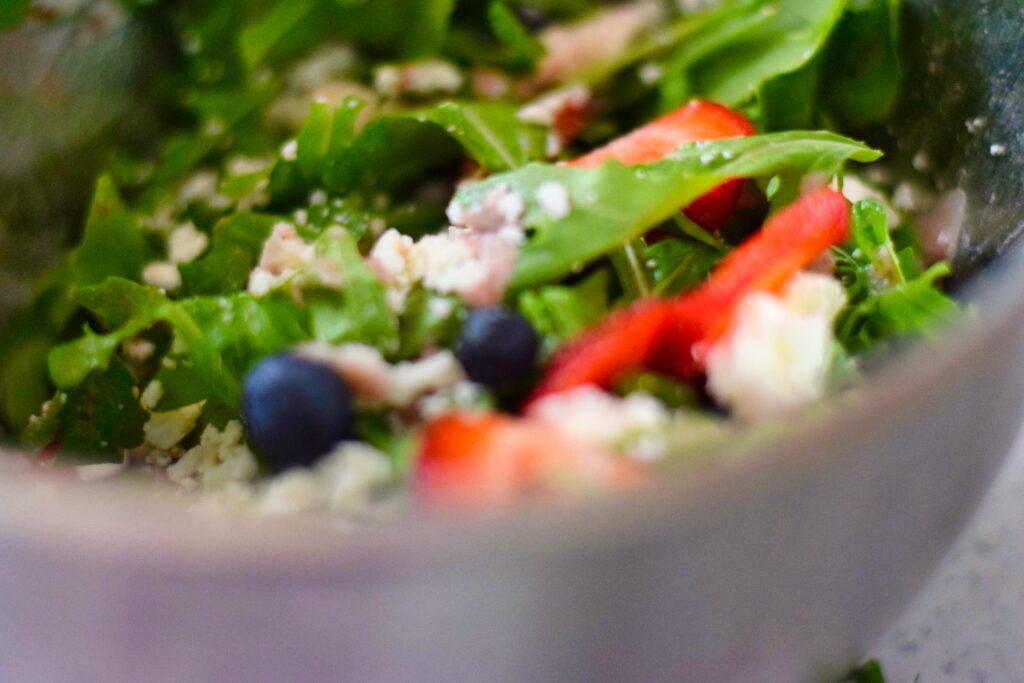 Prep & toss red, white and blueberry simple salad
If you buy your cheese whole, pop it into the freezer for a few minutes while you prepare the ingredients. This will firm it up for an easier crumble. Wash your produce and dry. Next, slice the strawberries. Take your cheese out of the freezer and crumble it by scraping the ends with a fork.
Combine all ingredients in a bowl and mix. I like to toss the greens and proteins together in the dressing. Then I top it with the cheese. This is a personal preference. I think it's part texture, part flavor. Or it could all be pointless… but that's just what I do.
I think this might go without saying, but I'll go ahead and say it now. This is a no-judgment zone! Sometimes I eat breakfast salads and I would go ahead and recommend this one if you're a purveyor of breakfast greens.
Anyway, I hope you enjoy this super easy red, white and blueberry simple salad! If anyone tries the bold flavor variations, let me know how it turns out!