Now that I've shared some random things about us and why I'm starting a new blog, let's talk about this peachy strawberry and prosciutto arugula salad.
For this recipe, I tossed peppery wild arugula in a tangy homemade strawberry coconut vinaigrette. Then I topped it with grilled peaches, goat cheese, sunflower seeds and crispy prosciutto.
This summery salad will slap your taste buds around. My favorite kind of meal.
What you need to make this peachy strawberry and prosciutto arugula salad
Alright people, this isn't going to be rocket (salad) science. Ha! Get it? Arugula is also known as rocket salad. Anyway…..
I've said it before and I'll say it again. I'm not a recipe engineer. I consider myself more of a recipe mad scientist. I like to throw things together and hope for the best. Maybe this is something that will change over time, but right now I'm still in exploration mode as a budding chef.
That's why this blog is so fun for me. I'm literally learning as I go. I want to show others that cooking or creating beautiful, yummy food doesn't have to be scary. I promise to share my successes and my failures equally.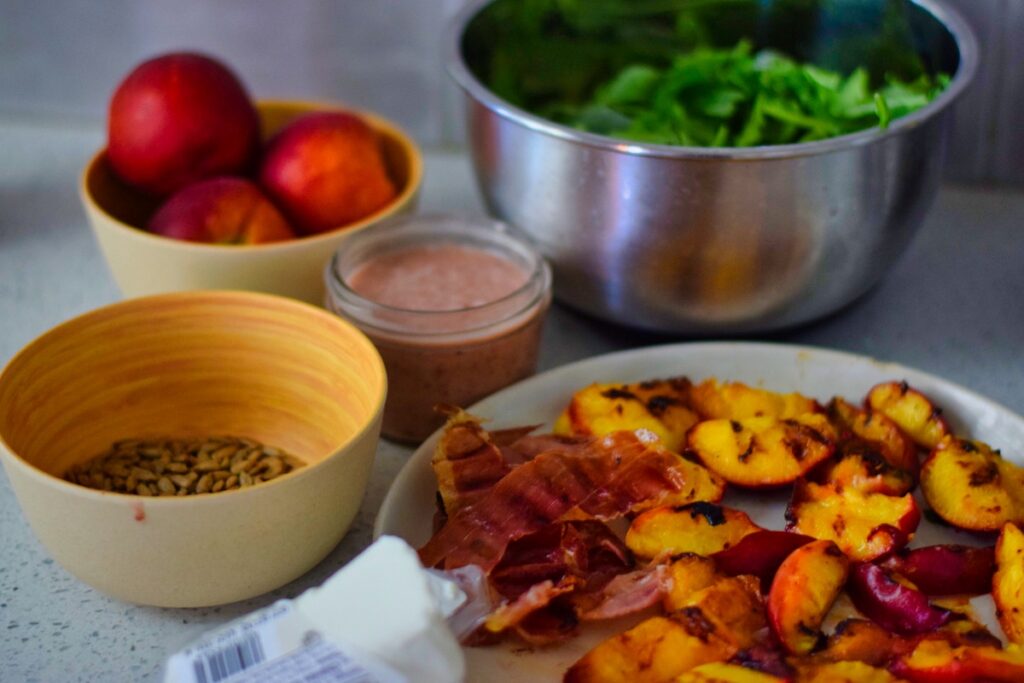 To make this salad you'll need:
Arugula
Peaches
Proscuitto
Goat cheese
Seed of choice (I used sunflower but walnut or pecan would be so good)
Strawberry jam or preserves
Red wine vinegar
Coconut milk
Honey
Olive Oil
Salt
Fresh basil (or herb of choice) for topping – Optional
Preparing your salad ingredients
First, you'll want to wash all of your produce and dry it off. Then it's time to slice your peaches and grill them. I must admit, I had to google "how to slice a peach" for this recipe. I probably should have looked up "how to grill a peach" while I was at it I impatiently just went for it.
Once I had the peaches sliced (botched), I did toss them in a tiny bit 'o olive oil. I have no clue if that helped with anything, but it seemed like a good idea at the time.
Next, I fired up my stove-top cast iron grill and got to work popping the prosciutto and peach slices on. I grilled them for a bit on each side until I started getting those nice grill lines. Put them on a plate to cool when they're done. While those are grilling, make your salad dressing.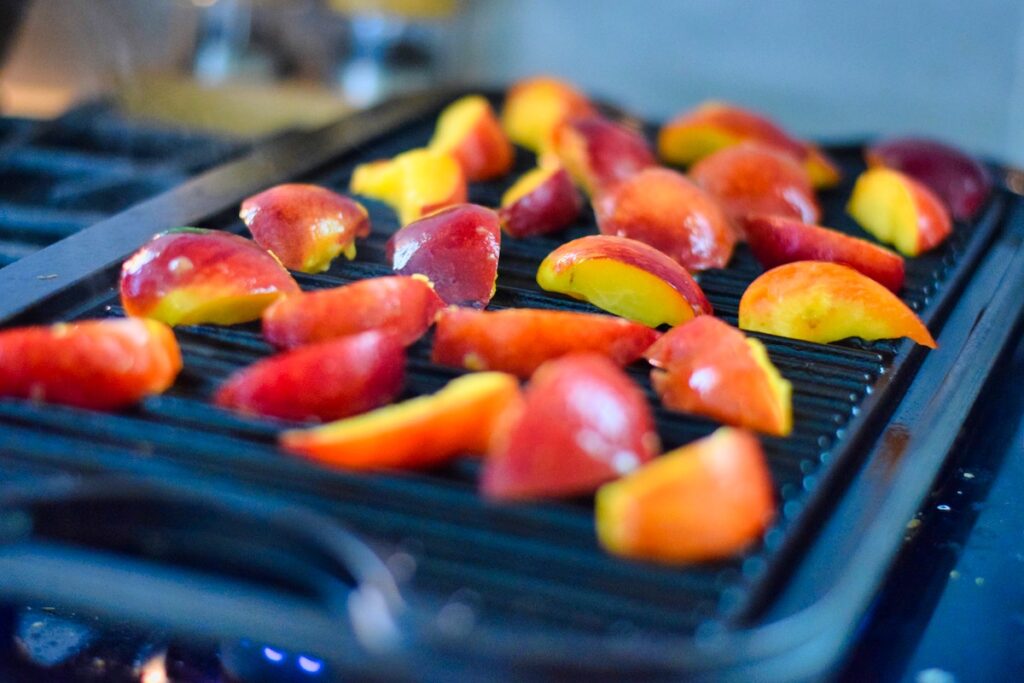 Strawberry coconut vinaigrette
Besides the gallons of Hidden Valley Ranch and honey mustard my children consume with their chicken nuggets, we don't usually buy pre-made dressing at the store. I love throwing together dressings on the fly. It's so easy!
For this strawberry coconut vinaigrette, I combined together about 2 tablespoons of strawberry preserves, a splash of coconut milk, a generous splashing of red wine vinegar, salt and a dash of honey. You can whisk by hand, shake in a jar or use an immersion blender like I did. Any other blending tool would probably be good. You could even try one of those little electric whiskers.
Depending on how you like your dressing to taste, I would just go easy on the ingredients and test as you combine. That's the mad food scientist in me. I like to adjust as I go.
You could very easily swap out the red wine vinegar for balsamic or any other vinegar of your choice. If you don't have coconut milk, you could always use some greek yogurt or regular milk or cream. If you like a thicker consistency, I would recommend coconut cream. Go wild, kid.
Make the peachy strawberry and prosciutto arugula salad
There's a few different approaches you can take here. You can put everything in a bowl and combine it, or you can layer it. I chose the latter route.
First, I combined the arugula, sunflower seeds and strawberry coconut dressing. After tossing those together, I split the salad into bowls and then topped it with the crispy prosciutto, grilled peaches, goat cheese crumbles and a drizzle of dressing.
Tip: Pop your goat cheese (or any other crumbly cheese) in the freezer before using it. Take a fork to it like you're trying to shred meat and it will crumble easily.
I prefer to crumble my own goat cheese but you can use store-bought crumbles. As if there isn't enough flavor going on with this dish already, I topped it with some fresh basil too. No regrets!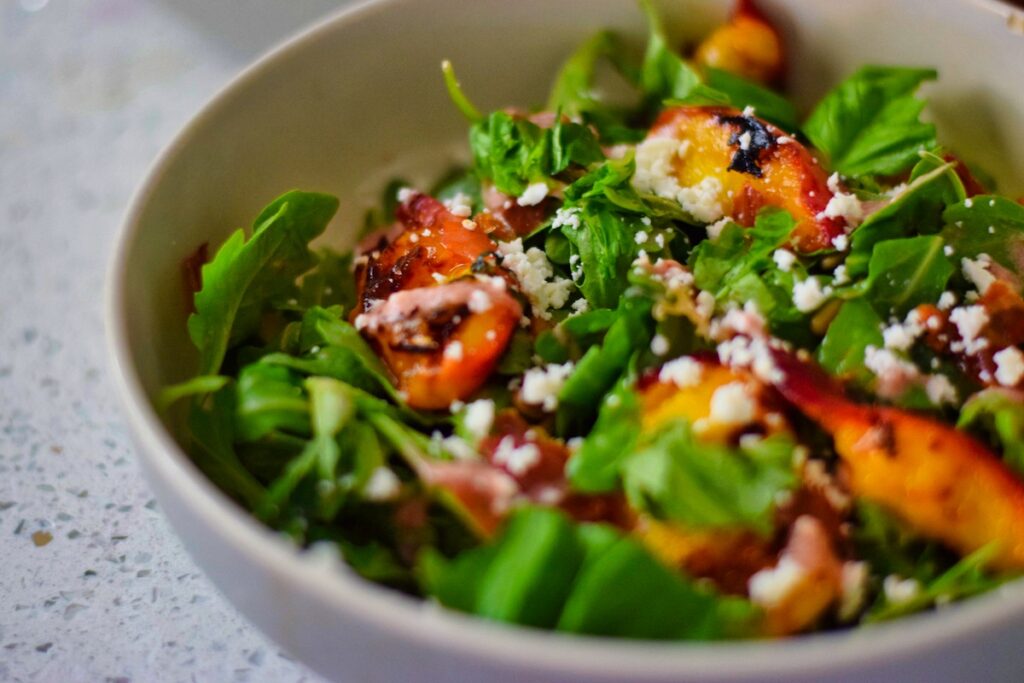 Things I would do different next time
I like to debrief myself every time I make something. Here's my self-assigned homework before the next time I make a salad like this.
Slice peaches into quarters, not thin slices
My peaches were on the smaller side and I still sliced most of them into eight slices each. My little octo-peaches didn't do so great on the grill. They didn't hold their shape and some got a little mushy. The few that I cut into quarters held up like champs.
I guess if you have some big juicy bad boys, you might do better than I did in the peach slice department.
Better understand a ripe peach and how to grill them
How could you possibly pass up the peaches during summer time at the store? That's how I felt at-least. I don't usually buy peaches too often but I would like to start eating more seasonally. Being the not-peach-guru I am, I sort of felt around on my peaches before cutting into them at home. I found myself thinking,"I don't know. I guess they're ripe."
And although my peaches came out ok on my indoor griddle, I should probably look into properly grilling peaches for the next go-round. Surely some room for improvement.
If you make this be sure to tag #theflowerbungalow and let me know how it turned out!