Looking for a way to dress up your homemade yogurt and fruit parfaits? Look no further than this blog post. Save this blog for future brunch, party or holiday breakfast inspo!
I don't know about you, but I tend to get in a rut with breakfast. There are only so many ways to eat eggs and bacon and I'm usually not trying to go full iron chef in the kitchen first thing in the mornings.
I recently stood in front of my fridge wallowing in self-despair as there wasn't an omelet or breakfast burrito just waiting for me. The fruit needed to be used up and that I had an unopened container of yogurt — and eureka! I was going to make breakfast yogurt and fruit parfaits.
The basics of a yogurt parfait
Yogurt and fruit parfaits come in many forms and are easy to make to your liking. They all seem to follow a basic formula — yogurt, fruit and granola. You want to switch it up and try flavored yogurt? Go for it! You want to switch up the fruit and herb garnish? Yessssss.
Recently, I whipped up a round of these pretty little parfaits and used to make them pretty regularly. I need to bring that back. I love that they can be made ahead (just leave the granola out or it'll get soggy).
The glory of this breakfast treat is that anyone can make it. But if you want to elevate your parfait game, listen up! I'm going to give you some pointers.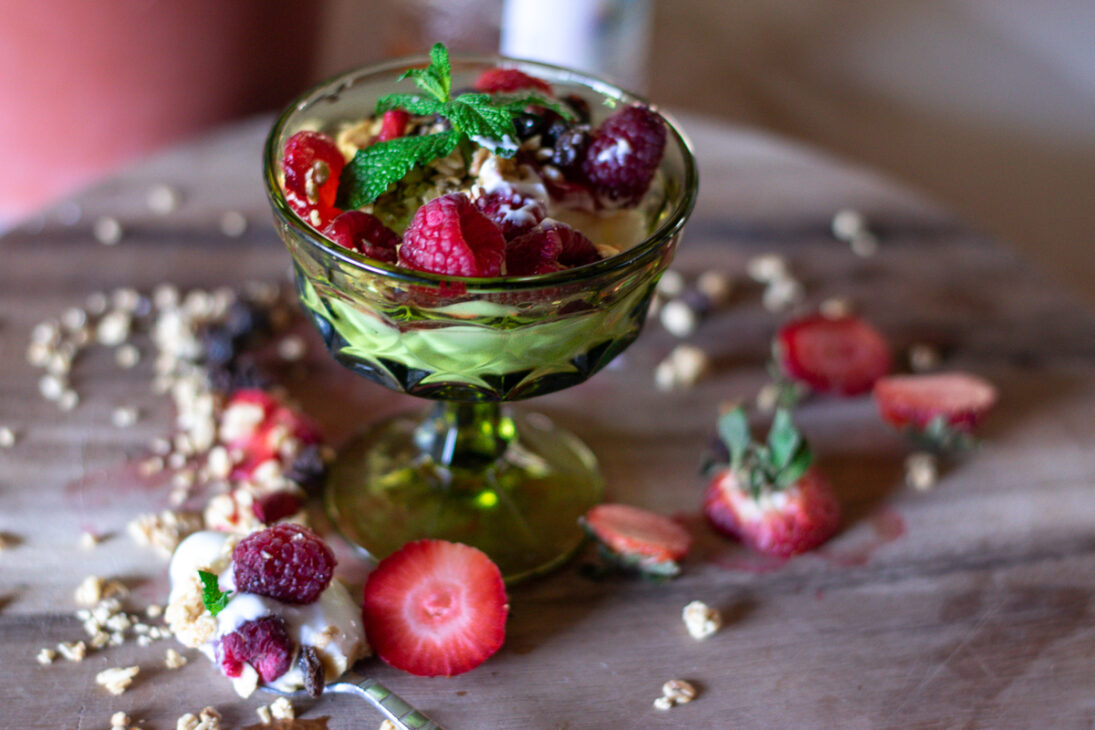 Tips for the tastiest and prettiest yogurt and fruit parfaits
Of course, you can throw your parfait together and they'll still be wonderful. But here's some tips to help you kick yours up a notch!
Use fresh seasonal fruit.
Whole fat milk will result in the tastiest parfait. (IMO)
Drizzling with local honey from the farmer's market is a sustainable choice.
Find or make a good granola that you love.
If serving fresh, use the prettiest goblets or serving dishes you have.
A pinch of salt on the top may seem strange, but trust me, it's not.
How I made these yogurt parfaits
Here's how I made the yummiest parfaits:
Whole fat plain yogurt
Raspberries
Sliced strawberries
Muscat raisins
Honey and oat granola
Drizzle honey
Pinch of salt
Top with fresh mint
You can switch out your yogurt base and the toppings, but the recipe I outlined above was perfect. As I learned from Samin Nosrat's book, "Salt, Fat, Acid, Heat," salt brings out the flavors of a dish more. It's not natural to think so for me, but I even include that concept in sweeter dishes and I'm never turning back.
If you want pretty vintage glasses too be sure to check out my vintage online thrift guide! You can shop on Instagram from local sellers and there's always beautiful glasses for sale.
Happy parfait'ing!