We recently threw my mom a garden-themed party and the drink bar totally slapped (I think that's what the kids are saying now?) So I thought I'd share the details on all the spring-inspired beverages I made.
What kind of drinks do you consider to be springtime themed? Spring is officially in the air and I knew the drinks had to be refreshing, colorful, fruity and maybe even incorporate some carrots into the mix. It is almost Easter, and it is a garden-theme after-all. Here's what we wound up with:
Prickly pear lemonade
Raspberry lemonade
Elderflower limeade
Bunny juice
Spring sangria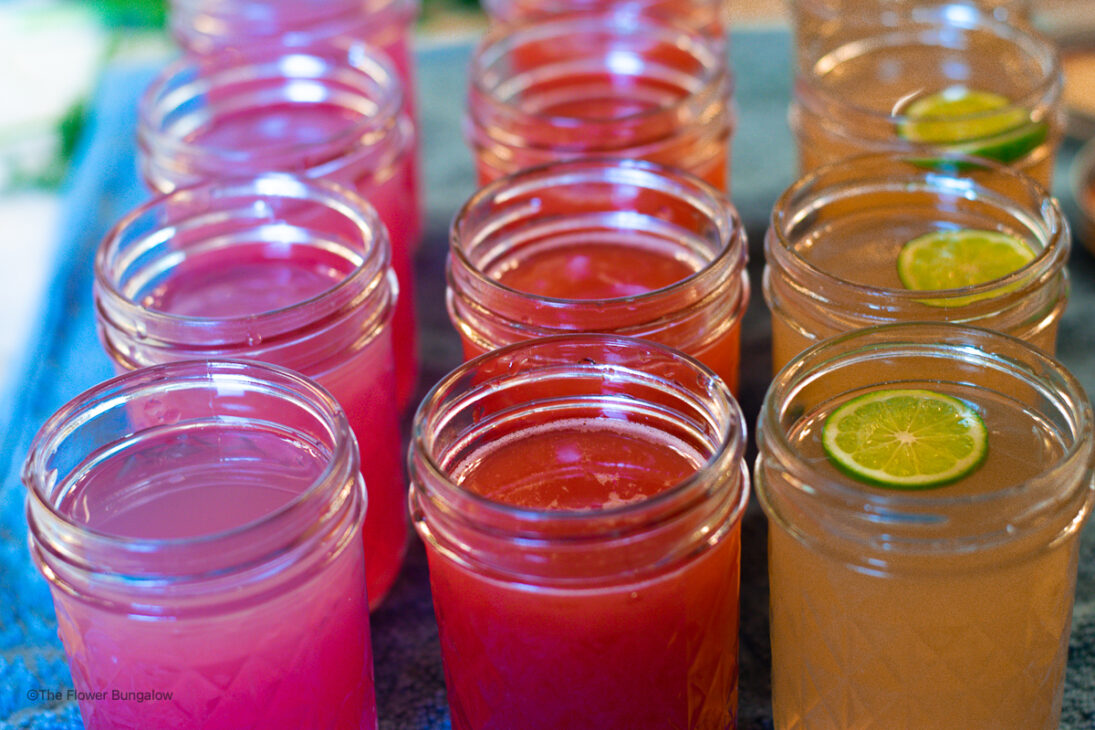 After gathering my ingredients, I made the decision that was not going to be stuck in the kitchen making drinks while my guests were enjoying the party. I wanted to enjoy it with them! So I grabbed a 12-pack of 8 oz. quilted jelly jars with lids at the store. I grabbed a couple of gallon-sized jars too – who knew they even made those?.
Make-ahead garden party drink bar
I wound up with a five main drinks and it was so easy to do! Before guests arrived, I set the drinks out and told them to pick a drink, enjoy as-is or add your own alcohol. I split the drinks into their own jars with lids, put in the fridge for the day and took them out before the party began. The setup seemed to truly delight!
For the most part, the ingredients I got can be homemade, store or farmers market-bought items. There are a few tonics from Iconic Cocktail Co., but they ship super quick! They also have a few retail locations you can grab them from. Speaking of Iconic, have you checked out their blog featuring the bungalow and a spring punch recipe?!
We put together this simple and easy batched cocktail recipe in Audria's charming midcentury bungalow on Flower Street in Phoenix, Arizona.

Kaylee Nedley, Owner, Iconic Cocktail Co.
Prickly Pear Lemonade
This bright-pink perfectly-pucker-worthy drink was the biggest hit! I had to make a few rounds because they kept flying off the drink bar so quickly. For this recipe, you can make homemade lemonade if you want, but for ease, I bought some at the store. Per 8 oz glass:
Raspberry Lemonade
I should have bought more raspberry lemonade from Singh Farms but I only had one small container of it. I decided to dilute it with a little bit of the store-bought lemonade and it was still really good. Per 8 oz glass:
4 oz Singh Farms raspberry lemonade
4 oz regular lemonade
Elderflower Limeade
This drink was more of a throw-together concoction, but it turned out pretty good! Per 8 oz glass:
Bunny Juice
I made the Bunny Juice in a gallon-sized jar and honestly just dumped everything in. I would suggest trying out a smaller version to figure out the juice ratio you like.
Singh Farms fresh carrot juice
Singh Farms fresh orange juice
Cold pressed apple cider
Fresh ginger slices
Lemon Juice
Spring Sangria
This recipe is no summer solstice sangria, but it's almost just as easy. Grab a pitcher or gallon-sized mason jar and combine your ingredients and stir. Chill without ice in the fridge until your party. Add some fancy cubes for flavor or regular cubes to serve. If you put ice in it right away you'll dilute it and we want our booze to pack a punch, right?!
Diced fruit: apples, limes, strawberries, oranges
1 bottle of red wine
3/4 cup Iconic Cocktail Co. Bitter Orange Tonic (or orange juice)
1 /2 cup 1980 Empress Gin (or brandy)
So how about that? Five drinks, one post — boom! If there's one take-away from this blog it's that you should definitely make your drinks ahead of your next party and put them in fancy little jars. Everyone will love it! Place some toppers out like garden-fresh herbs and dehydrated citrus!
I threw mine together entirely too fast so next time I create a party drink bar I'm going to be sure to set extra glasses out and a bucket of ice with a scoop.