St. Patrick's Day has always been one of my favorite holidays and now that we have kids, we've made it a point to celebrate in small, magical ways. If you were a fly on the wall in our home, you'd hear, "hey Google, how many days until St. Patrick's Day?"
Clara has even asked Google how to catch a leprechaun and what they like to eat. We learned they like dandelion tea. Too cute.
The luck of the Irish
We went to Ireland a few years ago (which I shared a bit about in my Guinness Stout Cake post) and the shades of green and castles are something I'd love to get back to.
We toured the island in a large van, Clara in tow, my grandparents, my parents, husband and brother. It was a fabulous trip and something I'll always cherish. I promised myself I'd take a little luck of the Irish with me for years to come.
With St. Patty's Day 2021 being mid-week this year, I made sure we got some fun activities in this weekend. Although we won't be crawling any pubs or drinking green beer this year, the little moments at home have still been fun.
Fun and simple ways to celebrate St. Patrick's Day with kids
These activities are my favorite because they're quick and easy and require everyday items.
Lucky Charm "rice krispies" treats
These Lucky Charms marshmallow treats are so fun to make. It's a perfect activity for little hands to help with. I had Clara sort some of the marshmallows out to the side while I got the butter and marshmallow mixture going. Then we topped the marshmallow treats with the lucky charm marshmallows we set to the side.
Make a leprechaun trap
The Lucky Charms box conveniently had a leprechaun trap activity on the back, but there are a lot of ways to make your own!
Leprechaun pee trick
This one has by far been one of the best activities we have done to date. We have the most amazing video of Clara a few years ago discovering the leprechaun pee and saying "ew," and going to grab cleaning supplies. Here's a pic of what we did: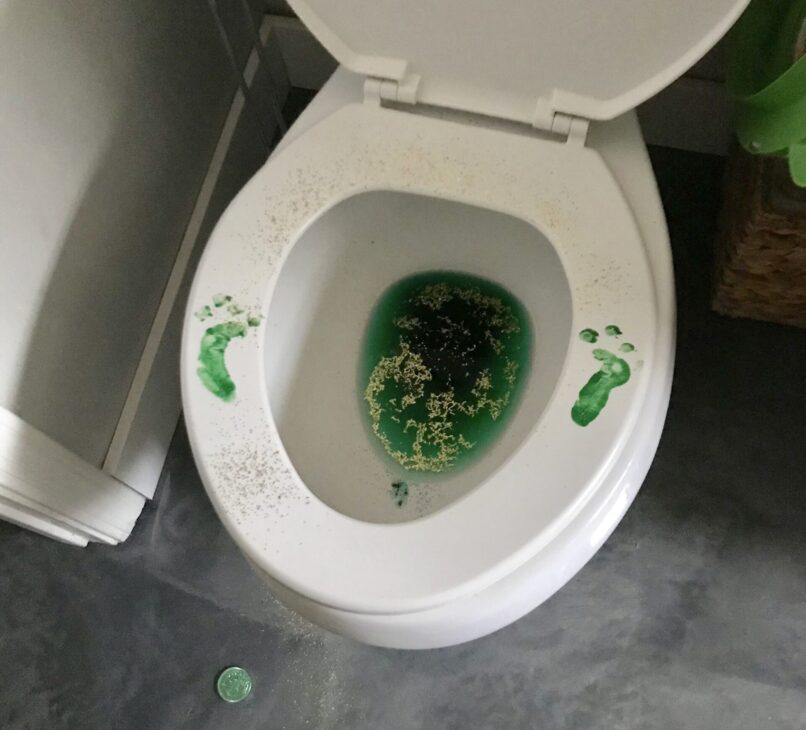 Rainbow flower STEM activity
Thanks to my friend Dana from House of Goldies, she posted about this activity and I immediately added "white flowers" to our shopping list. All you need is some bottles or jars (I used repurposed Iconic Cocktail mixer bottles), food coloring and white flowers. We had fun mixing the colors and making guesses as to what would happen. We're going to "observe" the changes for the next few days.
Search for four-leaf clovers
This is one activity surrounding the holiday that stands out in my childhood memories. And now this is a very relevant activity because our front yard is covered in clovers. We recently planted some new trees so we're out there more frequently. Lately, we've been sure to keep our eyes peeled for four-leaf clovers and dandelions.
Shepherds or Cottage Pie
Irish fare has to be some of the best in my book. For me, it's all about the potato and onion soups, corned beef and cabbage and cottage pie. It wasn't until a few years ago that I learned the distinction of cottage pie vs shepherds pie. Cottage pie is made with beef instead of the traditional Shepherds pie which is lamb. I added an additional twist by swapping out the mashed potato top with cauliflower mash and it was fabulous.