Homemade sugar body scrubs are so easy to make and they happen to make great gifts! Whether it's to yourself, or perhaps some special valentines in your life, you can't go wrong with the gift of a little suga'(r).
I've been feeling crafty lately! Making DIY gifts shows your gift recipients that you took the time to think of them and create something with love. <3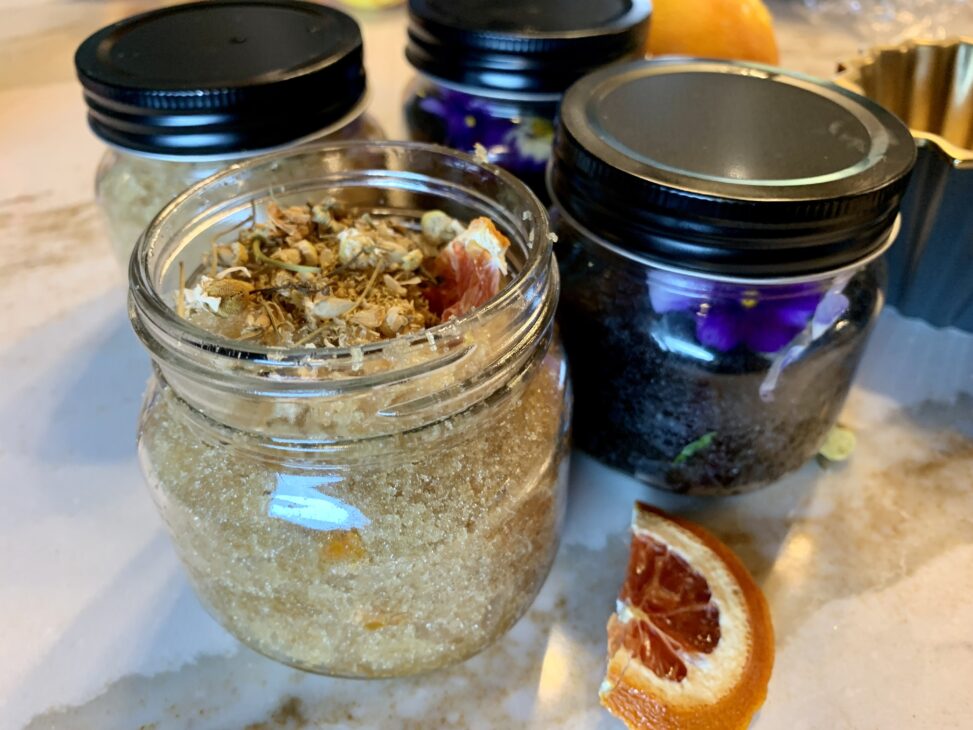 I recently created three different scrubs to hand out as gifts and I thoroughly enjoyed the process. Not only are sugar scrubs a breeze to throw together, but the combination possibilities are endless! Once you get the hang of the basic formula, you can dream up all the combinations your heart desires.
Sugar scrubs are a wonderful way to practice a little self-care. Making them is fun and using them is rewarding. Combined with a carrier oil of choice like almond oil or coconut oil (really, your favorite one will likely do), the sugar exfoliates while the oil moisturizes the skin. Add in some organic elements like flowers and scents, and it's really a treat.
Basic sugar body scrub recipe
To create an at-home sugar scrub recipe you need to first decide what type of sugar and oil you want to use. Then it's time to create some scrumptious at-home scrubs!
Sugar (Granulated, brown, turbinado)
Oil of choice (almond, coconut, apricot, jojoba, etc.)
Essential oils (optional)
Dried flowers (optional)
I don't have exact measurements for you because it just depends on how much you make, the consistency you like your scrubs, etc. To make the scrubs, simply combine and mix the ingredients and then put into jars. That's it! Here are the three ways I made my homemade sugar scrubs.
Note: Please do your research on using essential oils before you use them in a recipe. Some essential oils are skin irritants and must be used sparingly (or not at all).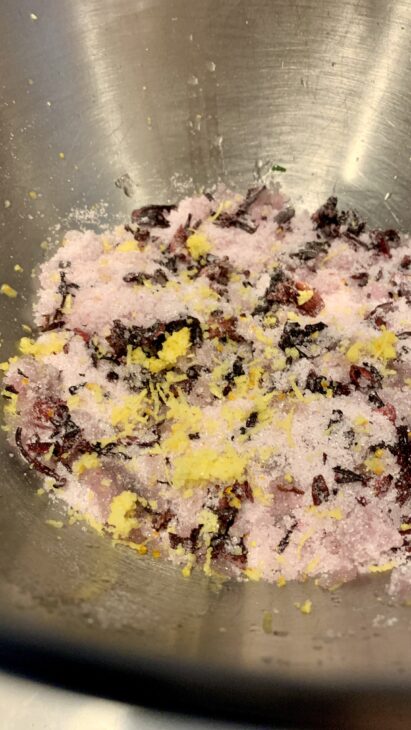 Grapefruit hibiscus sugar body scrub
Dried hibiscus flowers
White sugar
Zest of grapefruit
Almond oil
Grapefruit essential oil (optional)
Viola and hibiscus flower garnish (optional)
Out of the 3 scrubs I made, this was my favorite. First, I combined the hibiscus and sugar in a food processor and pulse until combined. This is where the fun purple color comes from, as the hibiscus and sugar get pulsed together, the hibiscus releases its color.
Then I added the hibiscus sugar, almond oil and essential oils to a bowl, zested the grapefruit and mixed everything together. Divide into jars and top with garnishes.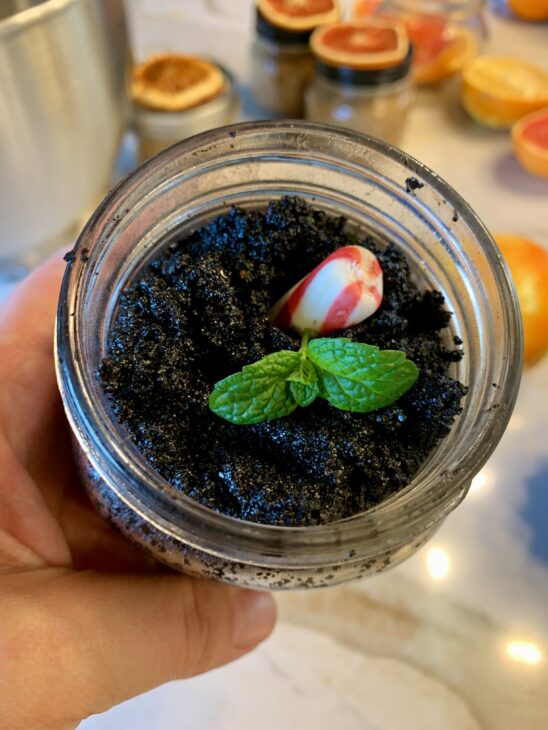 Peppermint coffee scrub
Coffee grounds
Brown sugar
Coconut oil
Mint leaves, chopped
A few drops peppermint essential oil
Peppermint stick and mint leaf garnish
For this peppermint coffee scrub, I did a 1:1 ratio of coffee grounds and brown sugar. I combined the ingredients and split them into jars and stuck a peppermint stick in for garnish. Per my note above, I was very, very conservative with the peppermint essential oil. I made sure to test it on myself before I gave it to anyone.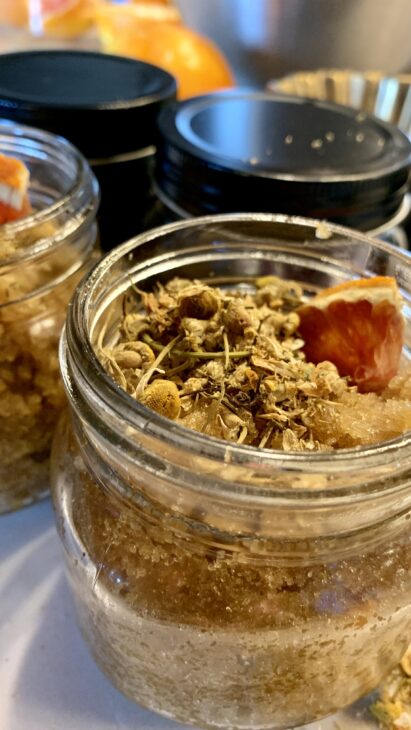 Vanilla orange sugar scrub
Brown sugar
White sugar
Almond oil
Vanilla bean paste (just a smidge)
Zest of orange
Orange essential oil (optional)
Dried citrus wheel fragment and dried chamomile for garnish (optional)
1:1 ratio of sugars combined with all other ingredients created a sweet, sugary, orange cookie type scrub. Topping it with the dried citrus fragment and chamomile was perfection.
In conclusion: I can't wait to make more sugar body scrubs!
In my opinion, this is one of the best DIY gifts to make. Which recipe above would you try? I'm excited to make labels with my new Cricut machine on the next batch!