This winter kale pesto and tangy red onion tart combine a garlicky pesto made from kale, a creamy mustard bechamel sauce, tangy macerated red onions atop a store-bought frozen pie crust. It's as much a treat for the eyes as it is the belly.
So grab your food processor, a pan and a baking sheet. We're going to make a scrumptiously simple tart that look great and tastes amazing.
The winter garden is in full swing at the bungalow and that means we have a lot of kale! I've come to really love this hearty green that adds a pop of greens and different textures to the garden.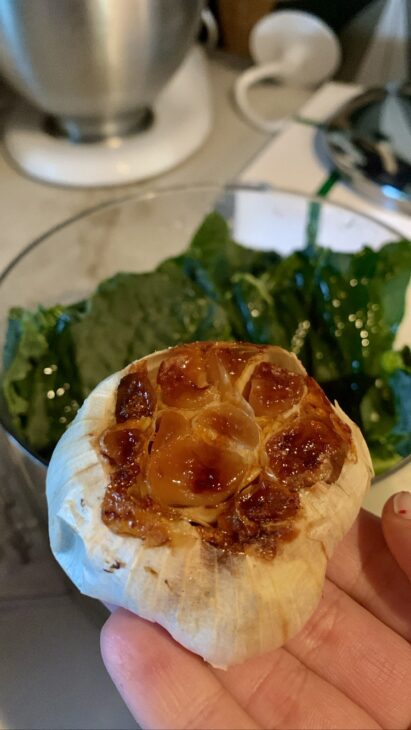 Kale — a love/hate story
I'll be honest — I haven't always been a big fan of kale. I noticed it as it had its moment as a garnish and then exploded onto the scene of the health food community in the last decade. Then I tried to enjoy a kale chip or two here and there, much to my disappointment I still didn't like it.
Then I was introduced to some kale salads that totally changed my mind. Those salads inspired me to create this Tuscan kale salad which I've modified a bit each time I made it. It's a staple in the wintertime and perfect for that clean eating resolution by the time the
I recently harvested a large amount of kale and wanted to try using it differently (although I could eat a kale salad every day and be totally content with that). That's when I decided to make some winter kale pesto.
Pesto with a twist
We all know your standard pesto — fresh basil muddled with pine nuts. I actually don't love pine nuts and prefer my pesto without it or at least mildly flavored with pine nuts. That's when I started looking in to alternatives and turns out you can use just about any other nut in place of pine nuts!
After reading that article I just linked, apparently pine nuts are super expensive too. We have a pecan tree here at the bungalow so I will gladly swap out any other nut in a recipe for a homegrown alternative!
So that's what I did here, I chose to use roasted pecans in this kale pesto. I pulsed the kale, olive oil and pecans with fresh-from-the-oven roasted garlic and freshly grated parmesan together. The outcome was an earthy, delicious "pesto" that can be used as a topping just as you would regular pesto.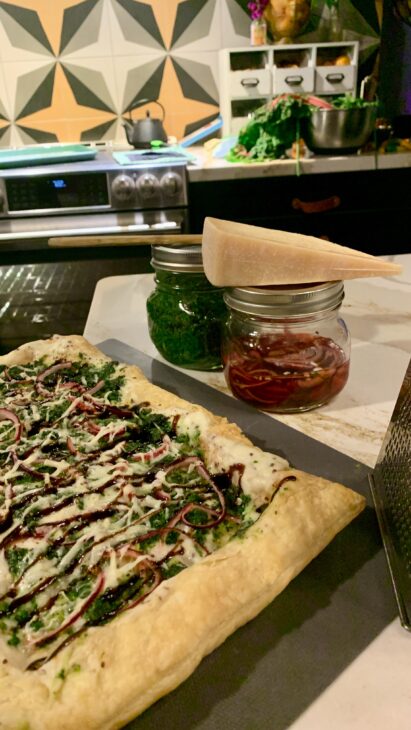 Here's what you need to make the kale pesto tart
Especially by using a store-bought pie crust, this tart is easy to make and assemble. It does however require some work beforehand. Namely, making the pesto, bechamel sauce and macerating the onion. To make the tart, you need:
Storebought puff pastry
Winter kale pesto
Mustard bechamel sauce
Macerated red onions
Parmesean cheese (I prefer grating from wedges)
Balsamic glaze (optional)
Proscuitto (not pictured but highly recommend)
Winter kale & garlic pesto
Head of roasted garlic
1/2 cup roasted pecans
15 (or so) dinosaur kale leaves
1-2 tbsp olive oil
Grated parmesean
Salt & pepper
Whole seed mustard bechamel sauce
From Little Flower, Recipes from the Cafe.
1 tbsp butter
1 tablespoon flour
1 cup milk
2 tbsp whole seed mustard
Salt & pepper to taste
Macerated red onions
Red onion sliced
Red wine vinegar
Salt
Bake the puff pastry and prep all the ingredients
Preheat your oven to 450 degrees. While that heats up, take your frozen pie crust out of the freezer and defrost and bake it according to the package's instructions. For a smooth operation, have it defrosted in time to bake it as you're prepping other ingredients. Next, prepare your garlic for roasting (aka the best smell ever).
Cut the top off of the head of garlic. Take a square of foil and set the head of garlic in the center of it. Drizzle with olive oil, sprinkle some kosher salt on it and wrap the garlic up tightly in the foil.
Place on a baking sheet and roast in the foil for about 30 minutes or until it's golden and the cloves are softened and turning brown. You'll know the smell when it's done — it's divine. Let it cool, you'll be squeezing the cloves with your hand.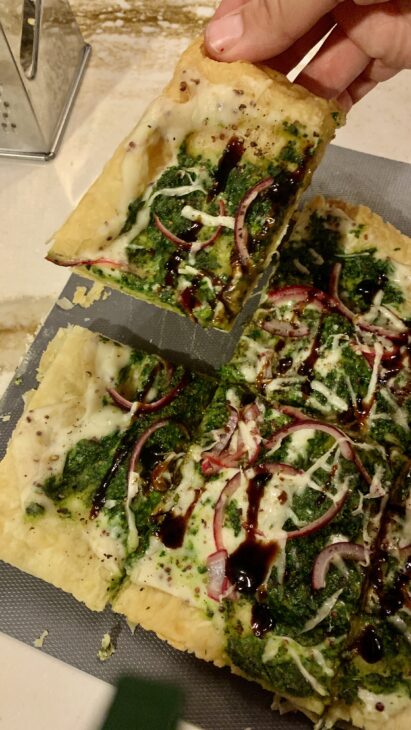 Make the winter kale pesto and macerated red onion
While your roasted garlic is cooling, grab your food processor and kale pesto ingredients. Strip the kale's leaves from the stalk by running your fingers along the main stalk and pulling the softer greens off. In the food processor, combine the kale leaves, roasted pecans, olive oil and grated parmesan.
Once the garlic is cool enough to handle, squeeze the roasted garlic cloves into the ingredients in the food processor bowl. Pulse to combine the ingredients, salting to taste. Set aside.
Next, it's time to macerate (soak in vinegar) the sliced red onion. To do so, place the sliced onion in a bowl or jar and add red wine vinegar. I add a pinch of salt for good measure. You can let it sit for as little as 15 mins or sometimes I leave it in the fridge for a week or so.
Once your kale pesto is made and red onion is soaking in the tangy red wine vinegar, it's time to whip up the mustard béchamel sauce.
Whip up the mustard béchamel sauce
I recently browsed the cookbook section of a local shop (Arcadia Farms Cafe in Old Town Scottsdale). Drawn to any inspiring books that have the word "flower" in the title, a book called "Little Flower, Recipes From The Cafe" by Christine Moore caught my eye.
Turns out The Little Flower is a soulful cafe in Pasadena, CA, and dream of the author and chef Christine Moore. After I saw the mustard béchamel sauce recipe, I knew I had to try it. I am a big fan of a creamy sauce, really, sauces in general and this one does not disappoint.
To make the bechamel sauce, heat a small saucepan on medium low. Melt the butter and add flour to pan a little at a time, whisking well. Gradually add the milk, 1/4 at a time, whisk thoroughly to avoid clumping. Whisk for about 3 minutes until the sauce thickens up. Once it comes to a slow boil, remove pan from heat and mix in the mustard, salt and pepper. Set aside.
Assemble and heat the winter kale pesto and red onion tart
Once the puff pastry is baked and your ingredients are prepped, it's time to create your masterpiece.
Spread the mustard béchamel sauce on the pastry as your tart's base. Don't be shy, you're in good company here.
Apply as little or as much winter kale pesto atop the mustard sauce.
Divvy up pieces of proscuitto if you're going that route. Spread around. (optional)
Place the macerated red onions around the tart.
Grate and sprinkle some fresh parmesean.
Put back in the oven until the cheese is melted.
Drizzle some balsamic glaze. (optional)
If you have extra sauce, onions and kale pesto, store in jars in the fridge for up to a week. Create more tarts or choose your own culinary adventure. My favorite way to use the ingredients? An everything bagel with cream cheese, layered with the kale pesto and red onions. So savory….so good!
What do you think of the idea of kale pesto? This can be very polarizing.